Back
HIS resumes renovation of salt loader Nouryon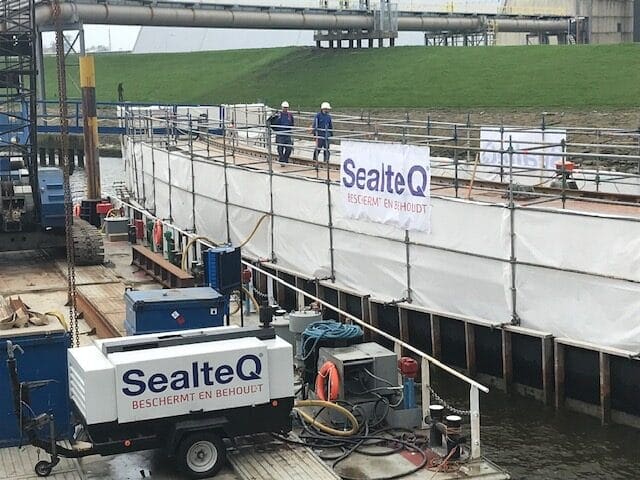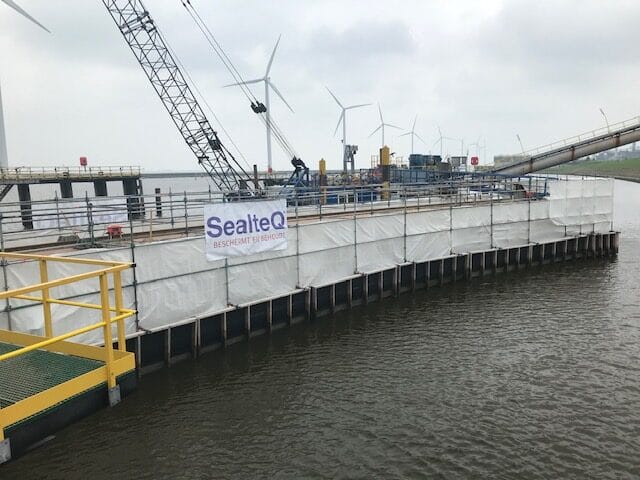 Heuvelman Ibis and SealteQ have recently started the second phase of the renovation work on the concrete swivel arc of the salt loader at Nouryon Salt under the name HIS v.o.f.
Second phase of renovation of the swivel arc
After the work of phase one was completed in August, HIS v.o.f. started last week with phase two of the challenging project. Due to the limited availability of the salt loader for maintenance work, the work is split into two separate phases. Just like in phase one, the work will consist of repairing the concrete heavily attacked by chloride. A large part of the prefab construction on the west side of the concrete swivel arc will also be removed. The concrete behind will then be repaired by sprayed concrete and provided with cathodic protection. The cathodic protection consists of titanium strips with imposed current which are incorporated in a 25 mm thick layer of sprayed concrete afterwards. The protective final finish is a flexible, hair-bridging sealing mortar.
Other renovation work
During the first phase of the renovation at the salt loading facility, the first steel tubular piles were repaired. During the second phase, the remaining 39 tubular piles are also irradiated to ISO-Sa2½ cleanliness to remove corrosion and the current coating. A new coating will then be applied with a total layer thickness of 750 µm. In addition to the work on the swivel arc, the steel construction of the associated mooring jetty will also be tackled in a similar way during the second phase. In addition, Heuvelman Ibis will replace the remaining steel railing of the concrete swivel arc with a plastic railing and the dock will be equipped with a new walkway.
From impossible job to new company.
To cope with the complexity of these renovations, HIS v.o.f. established. HIS v.o.f. is a new company consisting of Heuvelman Ibis and SealteQ. bundeling the expertise of Heuvelman Ibis, in the field of waterworks, steel structures and accessibility (crane ship, pontoons, etc.),  with SealteQ's expertise in renovating and maintaining steel and concrete.